peacecamp goes Filmfestival
Auch dieses Jahr gibt es wieder eine peacecamp-Filmmatinee im Rahmen des Jüdischen Filmfestivals Wien.
Ort: Votiv-Kino, Zeit: Sonntag, 14.10.12, 10:30 Uhr.
Siehe dazu:
www.jfw.at
0 comments | Comment
talks4peace in Reibers
talks4peace in Reibers
am 10. peacecamp – peacecamp 2012, 3. – 13. Juli in Reibers und in Wien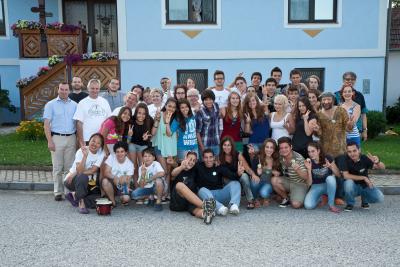 29 Jugendliche, 14 Erwachsene und 2 Filmer verbrachten 10 aufregende Tage im idyllischen Örtchen Reibers im Waldviertel, fernab von Krieg, Terror, Gewalt und Konsum. Ihre Tage begannen um 8 Uhr früh dem "I feel good"-Workshop – notwendige Vorbereitung für die emotionell aufwühlenden, oft hitzigen Debatten in der darauf folgenden "Large Group", in der sich alle – jung und alt – zu Themen des Zusammenlebens mit Anderen und der Frage der Verantwortung und Möglichkeit des Einzelnen, die eigenen Gesellschaft zu beeinflussen und zu prägen, äußern konnten. Nach dem Mittagessen und einer kurzen Pause folgten die "talks4peace"-Workshops, bei denen sich die Jugendlichen unter der Leitung zweier Historiker zu Themen der Friedens und Unfriedens im Nahen Osten und in den Ländern Europas hitzige Wortgefechte lieferten. Diskutiert wurden die Möglichkeiten friedlichen Zusammenlebens von Israelis und Palästinensern, sowie Aspekte des Umgangs Europas mit Minderheiten – den unterschiedlichen Religionen, Kulturen und Zuflucht Suchenden innerhalb ihrer Länder. Vier Kulturabende ermöglichten es jeder einzelnen Gruppe (ÖsterreicherInnen, UngarInnen, jüdische Israelis und palästinensische Israelis) den Anderen die eigene Kultur im wahrsten Sinn des Wortes schmackhaft zu machen, wobei jede in der Küche des Jugendgästehauses nationale Köstlichkeiten zubereitete und servierte. Tanz, Gesang, Spiele und diverse künstlerische Darbietungen boten der kulinarischen Darstellung der eigenen Kultur eine heitere und für alle lustvolle Ergänzung.
Am 11. Juli bot Reibers der show4peace eine prachtvolle Kulisse: Bei der interaktiven Show mit Gesang, Tanz und diversen anderen Darbietungen wurde das Publikum von den TeilnehmerInnen auf eine fantasierte Reise in ihre jeweiligen Heimatländer mitgenommen und konnte an der Uraufführung des von Gerald Muthsam gedrehten Video-Films peacecamp 2012 teilnehmen.
Evelyn Böhmer-Laufer
Initiatorin und Leiterin des Projekts peacecamp
peacecamp.net
0 comments | Comment
One week from now.... LAST PREPARATIONS- LAST INFORMATION
PLEASE READ CAREFULLY ALL THE
information for participants 2012.peacecamp.net
and don't forget to bring what is listed!
0 comments | Comment
peacecamp 2012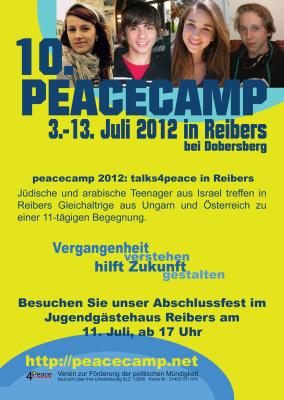 0 comments | Comment
If violence bugs you, come to peacecamp

0 comments | Comment